In 2015, Apple released its first gadget, equipped with a new and, surprisingly, the only USB Type-C port. The 12″ MacBook, in which there is only one port, caused discontent among the fans of the company.
Over time, Apple not only very successfully sells a 12-inch line of ultrabooks, but also equipped the USB Type-C MacBook Pro series, completely abandoning the classic USB 2.0/3.0, and any additional ports.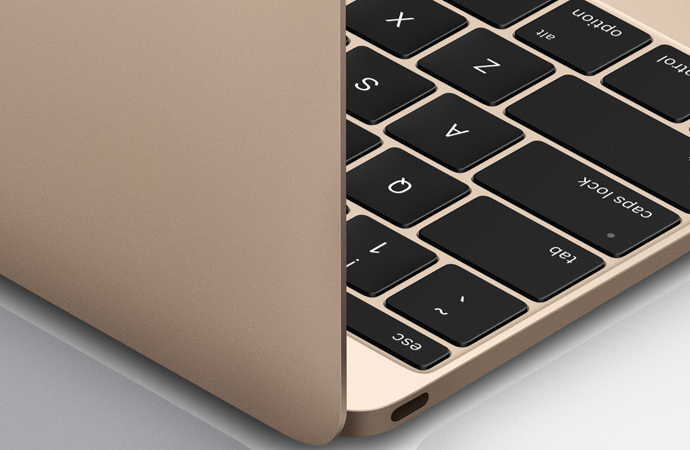 Almost four years have passed since the MacBook was released, but users still have questions about the operation of the new USB-C port. Especially important is the selection of cables and accessories.
WHERE DID USB-C COME FROM AND WHAT IS THE PROBLEM?

The USB standard itself appeared back in 1994. USB 1.0 was created as a universal port for connecting all kinds of equipment to a PC. They began to actively use it only in the 2000s.
USB 2.0 Then the time came for USB 2.0. USB 2.0 cables have a strict orientation and are represented by two types of connectors: USB Type-A and USB Type-B. With the growing popularity of mobile devices, two more types of connectors will later appear: USB Micro-B and USB Mini-B.
Data was transmitted over two wires, usually green and white, and black and red were responsible for power.
The maximum data transfer speed via USB 2.0 is 480 Mb / s. The main drawback of the standard is too low currents (not more than 500 mA), which often caused problems when connecting external drives.
USB 3.0 Having decided to eliminate the shortcomings of USB 2.0, engineers are developing a new standard – USB 3.0. "Blue USB" became much faster and was able to transmit data at speeds up to 5 Gb / s.
Perhaps this became possible due to the appearance of four additional communication lines, and, as a result, the growth of the maximum current to 900 mA.
In the fall of 2013, specifications for the updated USB 3.1 Type-C standard were approved. Since then, life will not be the same.
WHAT IS A USB TYPE-C?
Despite the fact that engineers had already released three iterations of the USB standard, the main question remained open before them. It was necessary to provide normal power supply.
Such a small current of 900 mA to power the laptop battery at 8000-10000 mAh is clearly not enough. In addition, more demanding power accessories began to appear on the market, and the manufacturers' tendency to make devices thinner and more compact forced them to abandon ports such as HDMI, Thunderbolt, classic USB, Ethernet.
Instead of the 8-pin USB 3.0, the 24-pin USB 3.1 Type C appears. Why are there so many pins?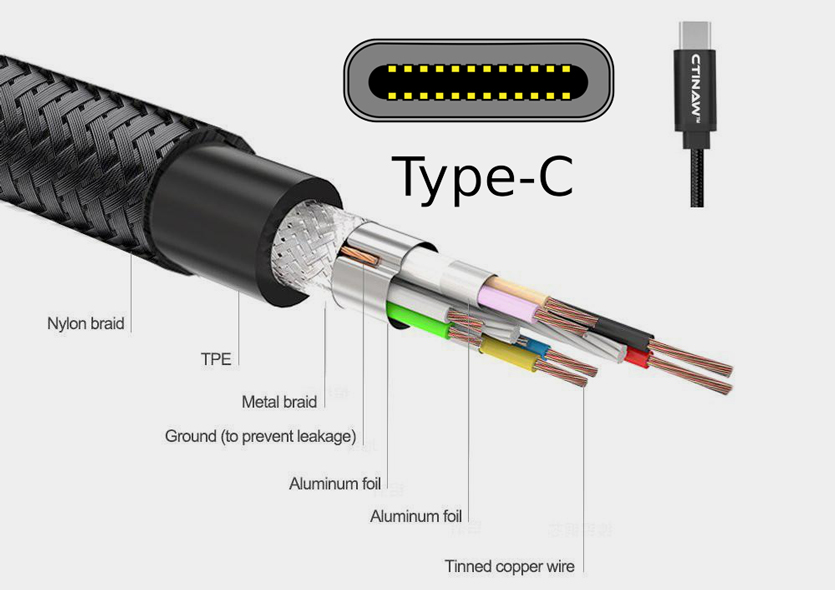 For your information:
4 pairs of contacts provide power and ground
4 contacts are responsible for data transmission at speeds less than SuperSpeed
8 pins transmit data at high speeds SuperSpeed
2 pins auxiliary
1 contact is responsible for data configuration
1 pin provides +5 Volt power for active cables
2 pins determine cable orientation (which side is inserted)
The new USB Type-C specification immediately opened up a number of new possibilities for users.
Firstly, in USB Type-C there is a new standard USB PD, according to which this port and the corresponding cables must provide power transmission up to 100 W in both directions.
Secondly, impressive data rates. In an alternative mode, Thunderbolt 3 can transfer data at speeds up to 40 Gb / s. Of course, with certain "ifs," but more on that below.
Thirdly, he can transmit video with a resolution of up to 5K. There is enough speed here and HDMI is no longer needed
Finally, the USB Type-C is convenient because it "works like you don't plug it in". It is two-sided. The same as the Lightning cable, but now not only for Apple devices.

WHAT IS INSTALLED ON THE MACBOOK AND MACBOOK PRO THEN?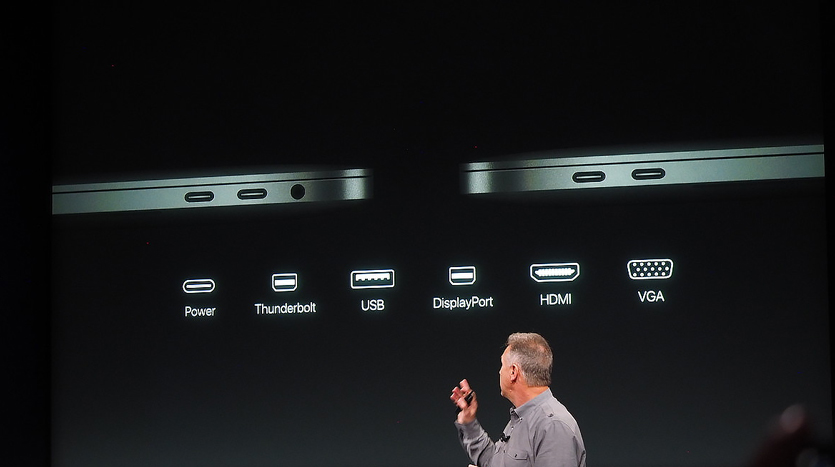 Before we deal with the choice of cables and USB Type-C accessories, we need to deal with those USB Type-C ports that are installed in the MacBooks.
Alas, the USB Promoter Group messed up with the USB 3.1 specification, making several generations of ports and completely confusing users.
Let's try to figure it out.
So, here are all generations of the MacBook and the corresponding USB Type-C ports installed in them.
USB Type-C 3.1 Gen 1 (up to 5 Gb / s) – 12 " MacBook line
USB Type-C 3.1 Gen 2 (up to 10 Gb / s) + Thunderbolt (up to 40 Gb / s) – MacBook Pro 2016 – 2020 (including latest 16 inch MacBooks).
You need to understand that if you have a 12-inch MacBook, you can forget about Thunderbolt 3 support, which means it makes no sense to pay for supporting this specification when choosing a cable.
MacBook 12 ″ supports video transmission via HDMI, VGA and DisplayPort (with appropriate adapters), but it will not work with Thunderbolt devices.
With MacBook Pro 2016 and newer, everything is much more interesting. 13-inch MacBook Pro models until the recent update had only two of the four ports (those on the left) with support for Thunderbolt 3.
In 2018, all four ports in TouchBar models fully support data transfer at full speed. The 12-inch MacBook has remained unchanged.
Let's go further.

CHOOSING THE RIGHT CABLE FOR SPECIFIC TASKS
Choosing a USB Type-C cable is directly dependent on the task you are pursuing. This specification is very extensive, and it has certain limitations.

1. BEST USB-C CABLE FOR FAST CHARGING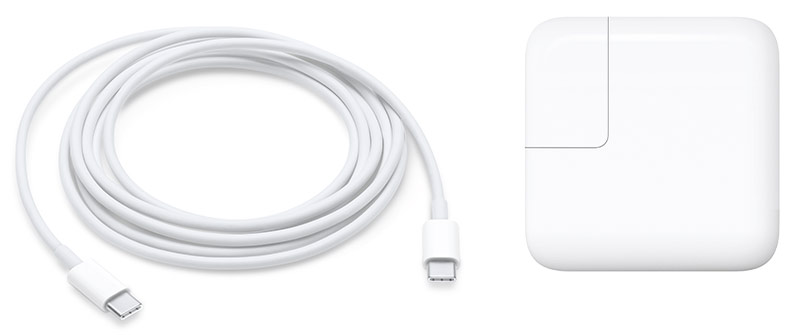 USB Type-C supports charging power up to 100 watts. A charging cable with an integrated controller limiting the maximum charging power is supplied with the MacBooks.
The 12-inch MacBook comes with a cable with a maximum charging power of up to 61 watts. The MacBook Pro 13 and 15 inches are 87 watts respectively.
And this means only one thing: if you connect the 61-watt cable to 87-watt charging and try to charge the MacBook Pro 15 ", for example, 2018, then the charge will be at a power of 61 watts. Almost 50% slower.
This is true for other certified manufacturers of charging cables.
Is it possible to connect the MacBook to high-power charging? Yes. Instead of the 29 W power supply that comes with the MacBook, you can power it with a charger from the 15-inch MacBook Pro at 87 watts. It's not scary, but there will be no miracle and the MacBook will not charge faster.
And yes, it is not harmful. MacBook will take as much as he can. By the way, the same story with the iPad.
To solve problems with charging and get a cable "for all occasions" completely, you can choose the original 2-meter USB-C cable.
2. Best USB Type-C cable to transmit a video signal like HDMI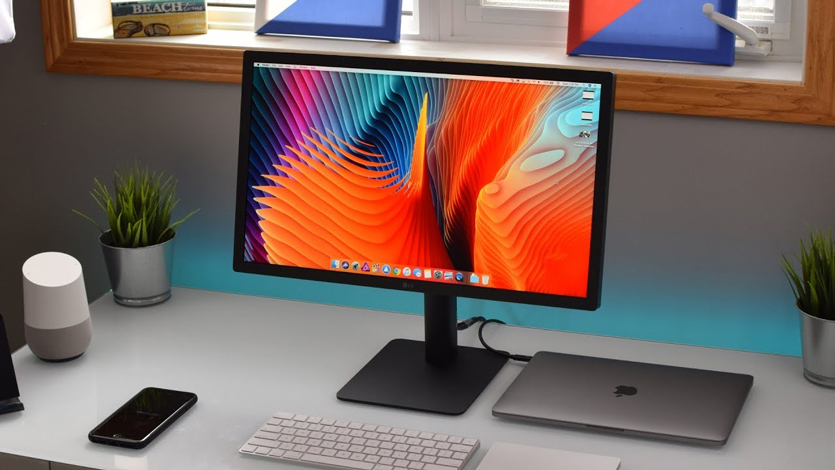 You decide to connect an external monitor or TV to your MacBook or MacBook Pro. We figure out what to use for transmitting a video stream along with USB Type-C.
First and foremost, determine which input port your external monitor or TV is equipped with.
For HDMI. There is a universal option that will not only add the standard USB 2.0 / 3.0 port and HDMI to the MacBooks but also duplicate the USB Type-C.
For VGA. A similar, but more archaic solution for VGA.
For Thunderbolt 3. There are already several Thunderbolt 3-display models on the market (but not for 12-inch MacBooks).
The same option can be used for charging (up to 100 watts). Having overpaid and bought this cable instead of a USB Type-C charger, you will get a truly universal cord that supports data transfer at speeds up to 40 Gb/s.
Important. Do not chase the length. Two-meter and half-meter cables with Thunderbolt 3 support are two different things.
But, it's worth clarifying.

3. BEST USB-C CABLE FOR CONNECTING USB 2.0 / USB 3.0 DEVICES
Perhaps the only case where there are no problems with adapters. Standard USB TYPE-C capable of delivering up to 5 Gb / s.
That's exactly what the USB Type-C port in the 12-inch MacBook family is designed for.

4. BEST USB-C CABLES FOR MAXIMUM DATA SPEED (5K AND 4K 60HZ)
40 Gb s – so much is capable of transferring USB Type-C gen 2 with support for Thunderbolt 3. But this is under ideal conditions.
To ensure this speed, the cable length should not exceed 18 inches or 45 centimeters. Otherwise, the speed drops sharply.
But here everything is not so clear. Thunderbolt 3 cords fall into two categories: passive and active. And you should pay attention to this if speed is important to you.
This Choetech cable is Active, so it can transmit data at speeds up to 40Gb/s.
Passive with a length of two meters transmit data at half the speed, that is, at the level of 20 Gbit/s, or even less.
Here is an example of a certified passive Plugable cable up to 2 meters long. The speed here is no more than 20 Gb / s, but the price is much more pleasant.
Active ones have a special transmitter that controls the transmission speed along the entire cable length. For such wires, the speed remains.

AS YOU CAN SEE, EVERYTHING IS VERY COMPLICATED
When choosing cables and accessories USB Type-C, anyway, you have to think carefully.
You must clearly understand for what purpose you are buying a cable and what speeds you expect from it. If you are comfortable with 20 Gb / s, but you need a length of two meters, it is not necessary to dump two hundred dollars for an active Thunderbolt 3 cable.
If it's just about complicated, then:
if you need a cable purely for charging – buy the original one on the Apple website or Amazon
if you need a cable to connect an external drive – select high-quality USB 3.1
if you need to connect a 5K monitor or work with professional Thunderbolt 3-hubs – choose short passive or long active cables for a lot of money
And the most important thing. Refuse to buy USB Type-C cables (carefully read paragraph 2 of the article) and accessories released by little-known Chinese brands. This is especially true for the choice of cords that will be used to charge your MacBook. The risk of burning the device in the case of USB Type-C is higher than ever.